When it comes to replacing your home's roof, homeowners need to be aware that there are many considerations and planning involved before you can go ahead with the roofing installation. One major factor that homeowners need to take into account is who will replace your roofing system for you?
There are thousands of roofing contractors in the Houston area. Picking one can be difficult, especially when roofing companies aren't always straightforward with you, you aren't aware of the typical cost of roofing in your area, and what qualifications a good roofer should have.
We know that your home is one of the most important things in life, and at Beck Roofing & Restoration, we want to make sure you have an excellent rooftop that will last for years. Our team strives to provide the community of Houston with exceptional roofing services that are both professional and transparent, guaranteeing an excellent rooftop for every Houston home.
If you're looking to hire a roofing company in Houston but not sure of the right questions to ask to find the best roofing team for you, carry on reading as we detail 5 of the most important questions to ask roofing professionals.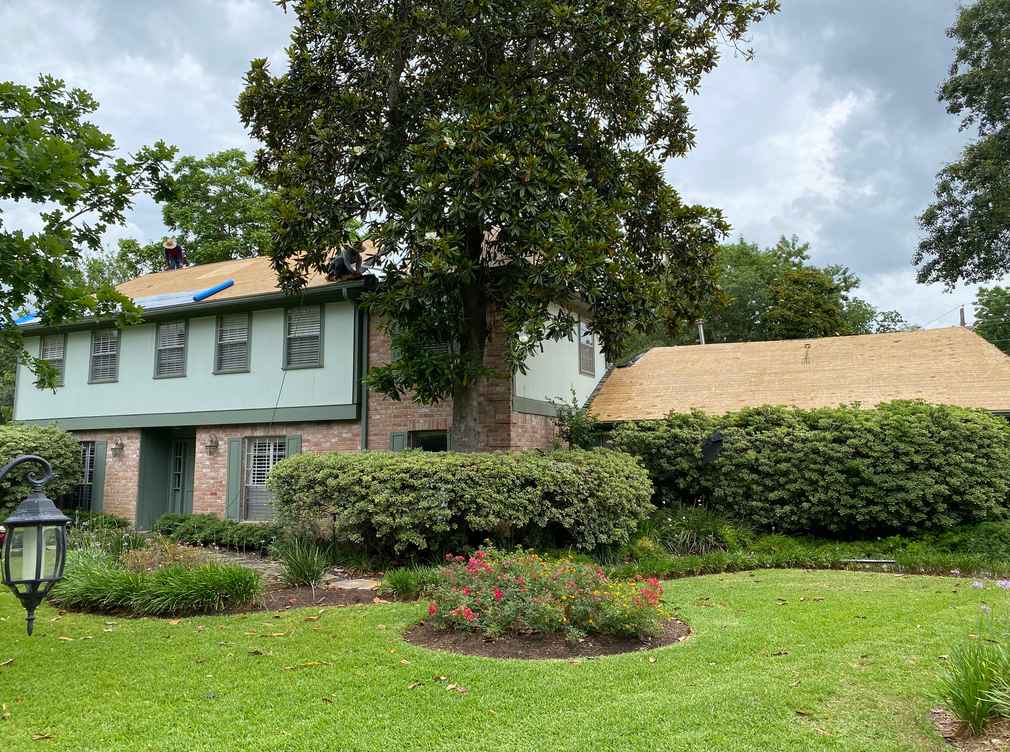 1. Are You Licensed and Insured?
It's essential to enquire about the roofing company's licensing and insurance. These documents will protect you, and your roofer should anything go wrong with your roofing project. The roofing licenses differ in each state; in Texas, the law dictates that roofers don't need a roofing license. However, it is recommended that roofers belong to the Roofing Contractors Association of Texas.
The law requires roofing companies to provide workers' compensation insurance to their employees. This insurance will protect you, as the homeowner, from being financially responsible for any injuries that might occur on your property.
Your contractor should also provide proof that they carry general liability insurance. General liability insurance protects you and your property from any damage that might be incurred during the roofing project. Homeowner's insurance will sometimes cover the costs of the damages, but it's best not to risk it and only hire a contractor that carries insurance.
2. Do You Use Subcontractors?
When you hire a roofing company, be sure to find out if they use subcontractors. It's in your best interest to know who's working on your property and not allow just anyone to wander through your home.
Be sure to ask your roofing company if they make use of subcontractors, and if they do, it's recommended that you enquire about their insurance and licensing documents as well. Sometimes roofing companies contractors neglect to pay their subcontractors. To protect yourself from being held financially responsible if this occurs, you might want to consider getting a lien waiver for the project.
3. Do I Need a Full Roof Replacement or Just Repairs?
It's essential for you to know the actual state of your home's roofing system. This will lower your chances of being scammed by roofers who make up issues as they go along. To determine the state of your rooftop, be sure to hire a reliable roof inspector.
Your roof inspector should inspect every inch of your roof to ensure that all your roofing issues are addressed, and nothing goes unnoticed.
4. Will You Remove the Old Roof?
Homeowners need to know whether their old rooftop is being torn off or if their new roofing materials will be installed on top of it. Re-roofing on top of old materials means you won't know your roofing system's actual state. Your roof deck or other roofing structures might be compromised, which means that it will only shorten the lifespan of your new roofing materials. While re-roofing is cheaper, you'll likely have to fork out more money for an entire roof replacement in the near future.
5. Do You Have A Clean-Up Process Once The Installation Is Complete?
Cleaning up after a roofing project is vital for you and your family's safety. Installing a new roof can be quite a messy project. You, therefore, need to find out if your roofing company offers this service. A good roofing company will leave your home in the best state possible once your roofing project is completed.
Beck Roofing & Restoration, Houston's #1 Roof Installation Company
If you're looking for highly qualified professional roofers in the Houston area, look no further than Beck Roofing & Restoration. We see to all your roofing needs, no matter the size. Give Beck Roofing & Restoration a call today to start your roofing project.